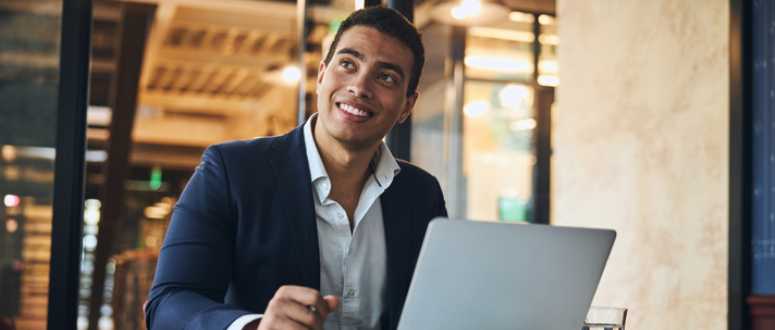 Can Minority-led VCs Bridge the Tech Talent Gap and Push the U.S. Forward?
Venture capital firms have historically played a critical role in shaping the future of technology, industry, and society.
 
Today, VCs have the opportunity to bridge the tech talent gap and take measurable action to bring the U.S. into the now frontier of digital transformation. However, the continued lack of diversity within the VC industry limits opportunities for minority and foreign-born founders to receive the support needed to bring solutions forward.
 
The Homogeneous VC Industry Results in a Homogeneous Start-ups Ecosystem
 
While minority groups have seen significant increases in representation in many advanced professional fields, the VC industry has remained staggeringly homogeneous for decades.
 
"Today only 8% of VC investors are women, 2% are Hispanic, and fewer than 1% are Black."
 
The standard make-up of the VC industry persists because venture capitalists are far more likely to partner with people who share their gender, race and common experiences.
 
According to the Harvard Business Review, belonging to the same racial group increases venture capitalists' propensity to work together by over 39%, and having a degree from the same school increases the likelihood by 34%. In short, VCs tend to team up with those who share similar traits and experiences and as a result:
 
"White men control 93% of the venture capital dollars in the U.S."
 
Just 1% of the $70 trillion wealth management industry is controlled by women or minority fund managers, which often directly impacts the number of dollars invested in female and underrepresented founders, according to Forbes.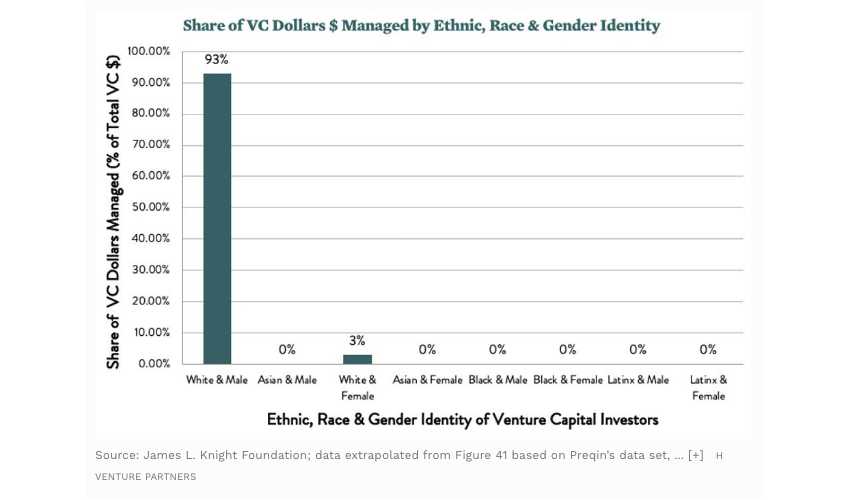 This is because majority-led VCs apply the same homogeneous thinking to assessing founders and markets to invest in. The root cause of this inequality is, in part, that institutional limited partners (LPs) have antiquated models and scorecards. VC managers tend to prefer start-up ideas and founders that mirror their own experiences.
 
"There is a claim for market-related issues, but often it's because they are not personally familiar with the market, rather than there being no market available. – Entrepreneur surveyed by Morgan Stanley
 
As a result, the lack of diversity in VC-backed start-ups simply reflects the VC industry itself. This is why so little venture funding goes to minority founders.
 
"Today, only 2% of all VC funding goes to women, Black founders receive only 1% and Latinx founders received just 1.8%."
 
However, the negative impacts of this "like me" investment strategy are becoming more well-known and criticized.
 
The Negative Impact of Tech Bro Culture on Business Results
 
Until now, there's been no transparency or accountability within some of the largest pools of capital in the world or oversight on the people managing them. However, that is starting to change.
 
Currently, several large VCs are under scrutiny in Congress over the propagation of what has been dubbed "tech bro" culture.
 
According to the House committee memorandum, the majority of venture capital funding for fintech is directed towards White and male-founded companies. This is despite the fact that most fintech services are positioned for use by underserved communities including women and people of color.
 
"Due to implicit or unconscious bias, many seasoned investors do not consider people of color to be successful entrepreneurs," said Wemimo Abbey, co-founder and co-CEO of financial technology company Esusu Financial, at the hearing. "Investors tend to go invest in people they know and are comfortable with."
 
Simply put, the lack of VC funding for the under-served, under-represented and underestimated entrepreneurs is a direct result of the lack of diversity among current VCs managers and their monolithic sourcing and vetting processes.
 
Emergence of Minority-led VCs with Sustainable and Strategic Allocation
 
Several recent studies show a strong correlation between a venture portfolio companies' level of diversity and the strength of its financial performance.
 
A 2018 study by University of Washington Foster School of Business found that firms owned by minorities perform better and are more profitable, on average, than firms with White owners. And minority-owned businesses tend to deliver a greater return on investment.
 
"Despite being under-financed, minority-owned firms are over-performing."
 
This is largely because minority-led VCs are better positioned to understand and take unique circumstances into account within their vetting process. As such, minority-led VCs are able to find value in ideas and founders that the majority White and male-founded firms discount or overlook completely.
 
Further, emerging VC managers—teams raising their first venture capital funds—are pushing the VC industry forward with innovative investment models, inclusive ecosystems and a focus on socially responsible investing.
 
By funding underserved minority and foreign-born entrepreneurs, emerging and minority-led VCs are opening the doors to a previously untapped talent pool that can help narrow the skilled labor gap in the U.S.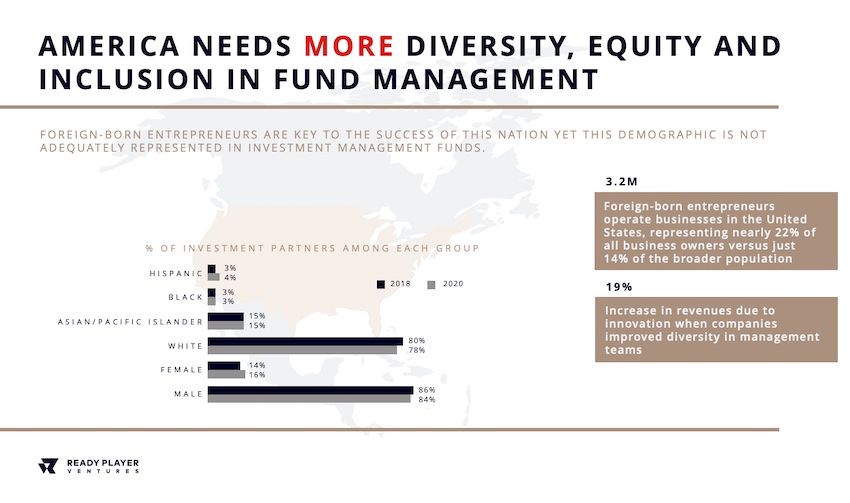 Emerging and minority-led VC funds are critical to the future of innovation and present an added layer of market opportunity for institutional investors including Family Offices, Fund of Funds, Sovereign Wealth Funds, or even Endowments.
 
"While major VC firms are pursuing larger and larger funds that tend to focus on mid, late and growth stage; seed investors are able to source premium deals."
 
In addition, emerging managers have more choice and flexibility in developing a fund strategy that's right for their institutional investors.
 
In short, minority-led and emerging VCs are able to deliver unique market opportunities and stronger returns to family and individual investors due to their ability to:
• Source premium seed stage opportunities among untapped and emerging markets that others miss or dismiss
 
• Understand and account for the unique challenges that minority and foreign-born founders face to help them better optimize their business growth
 
• Develop flexible investment strategies to provide more resilience to market shifts
 
 
Together, building a more sustainable future for ALL