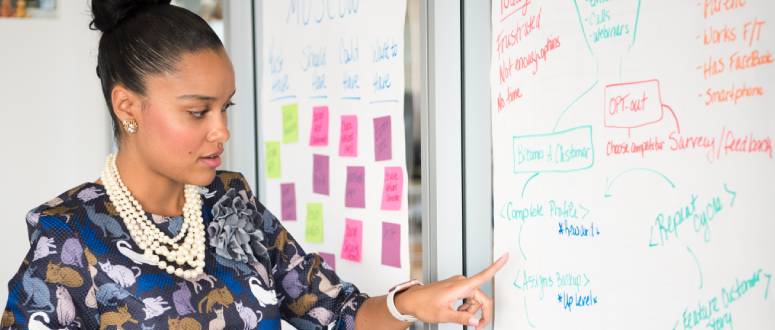 An Inclusive and Diversified Portfolio Results in Higher Profitability
 
As inflation continues throughout the U.S., some experts estimate an 80% chance that the country will soon fall into a recession.
 
Slower business growth paired with rising labor costs has already led to a wave of layoffs across America, especially in the tech sector.
 
According to a Crunchbase News tally, as of mid-November 2022, more than 73,000 workers in the U.S. tech sector have been laid off including employees from Netflix, Amazon, Meta, Twitter and more.
 
This is expected to be just the beginning.
 
"I think we're at the tip of the iceberg. I think it is going to get a lost worse. We're just starting with the reckoning of years of going fast and loose." - Jenny Lefcourt, Freestyle VC General Partner
 
In the Face of an Economic Downturn, It's Time to Turn-up Diversity and Inclusion
 
As leaders across multiple industries are confronted with the realities of an economic downturn, they are at risk of making the common yet critical mistake of focusing primarily on their bottom line, and not reviewing their diversity, equity and inclusion (DEI) efforts.
 
However, mounting research shows that DEI efforts that prioritize historically underserved people can be a potent source of strength and a fiscally sound investment strategy especially in an economic downturn because:
• Minorities are proven to be more resilient and innovative in business and therefore;
• Diverse teams and portfolios consistently deliver higher returns.
 
"A diversity of perspectives doesn't just make things fair, it leads to better businesses, superior solutions, and more powerful outcomes." - Allraise.org
 
Historically Underserved Groups are More Resilient
 
Recent research by Great Place to Work found that publicly traded companies that focused on inclusion not only fared well during and after the 2008 Great Recession, but also saw greater stock returns.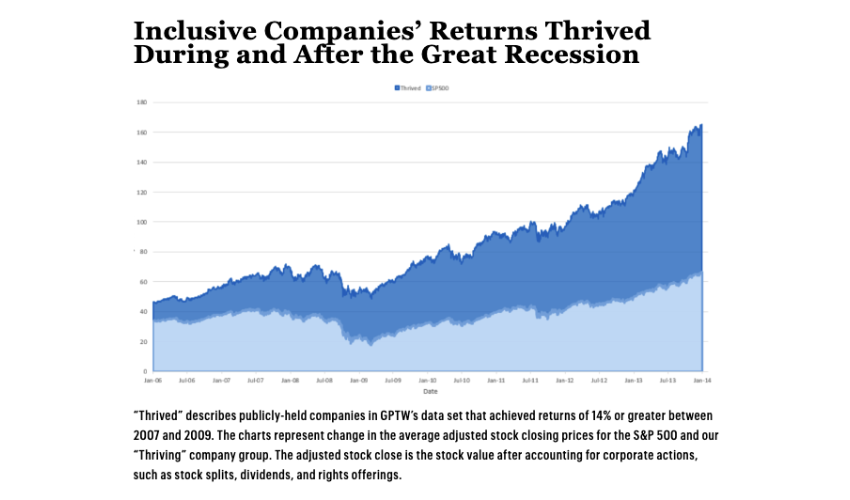 This research adds to the mounting evidence that prioritizing inclusivity isn't just the right the thing to do—it's better for business. This is because historically underserved people have—out of necessity—built up efficiencies, strength and resilience that puts them in a position to be more successful in tough economies.
 
"This is a time when people must get grittier. If you are looking for people who are able to do more with less, you are looking at women and people of color." - Aileen Lee, Cowboy Ventures Founder and Managing Partner
 
Minorities Have a Greater Readiness to Innovate
 
In times of crisis, innovation is critical for success. Today, historically underserved groups represent the fastest-growing segment of founders in the United States and contribute to a significant increase in the innovation output of the U.S.
 
A 2016 study from the Information Technology & Innovation Foundation found that:
• ~36% of U.S. innovators were born outside the United States, even though this population makes up just ~14% of all U.S. residents and;
• U.S. born minorities (including Asians, African Americans, Hispanics, Native Americans, and women) make up 20% of U.S. born innovators.
 
By bringing together founders and teams with different qualifications, backgrounds, and experiences, businesses are better able to deliver effective problem-solving and innovative ideas that can help them through tough economic times.
 
Diverse and Inclusive Teams and Portfolios Deliver Higher Returns
 
According to Dr. Tony Byers, former Global Director of Diversity and Inclusion at Starbucks, diverse organizations outperform their peers by an average of 26% in the S&P markets and are 70% more likely to capture new markets.
 
Additionally, a recent McKinsey report affirms that diverse executive teams have above-average profitability.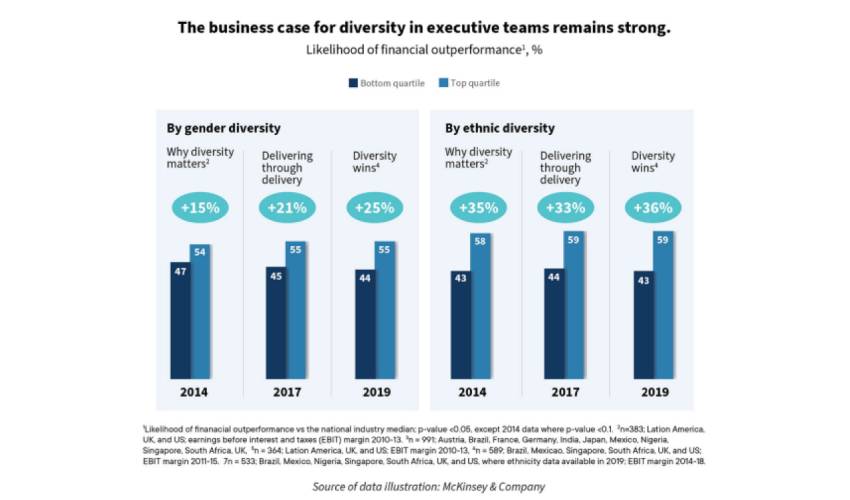 Further data from Kauffman Fellows reveals that companies with diverse founders delivered 30% better returns on positive exits compared to those with all-white founders.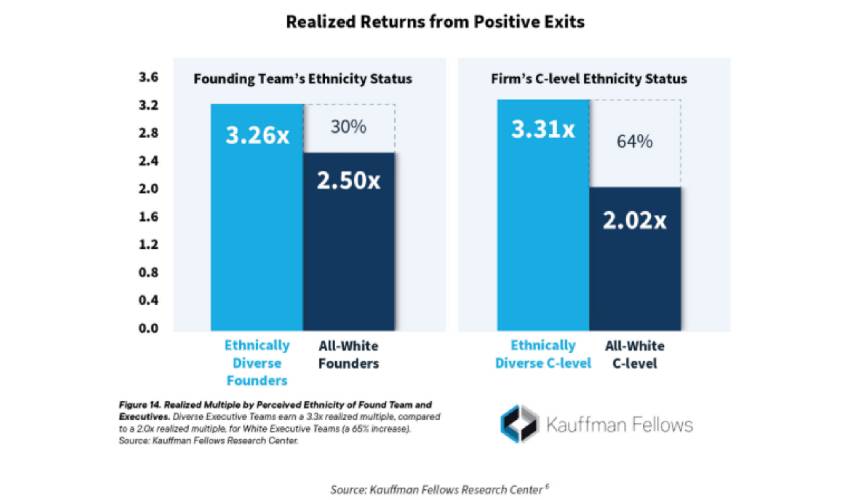 Conversely, homogeny is proven to hurt productivity. Racial gaps in fairness and levels of responsibility are red flags for business results. Employees who perceive an unequal playing field are less likely to be fully engaged or productive than employees who feel welcome to play an important role.
 
According to an analysis of the Great Place To Work-Certified™ companies, the 100 companies with the largest gaps between the experiences of white employees and minorities had significantly lower revenue growth than the 100 companies with the smallest disparity.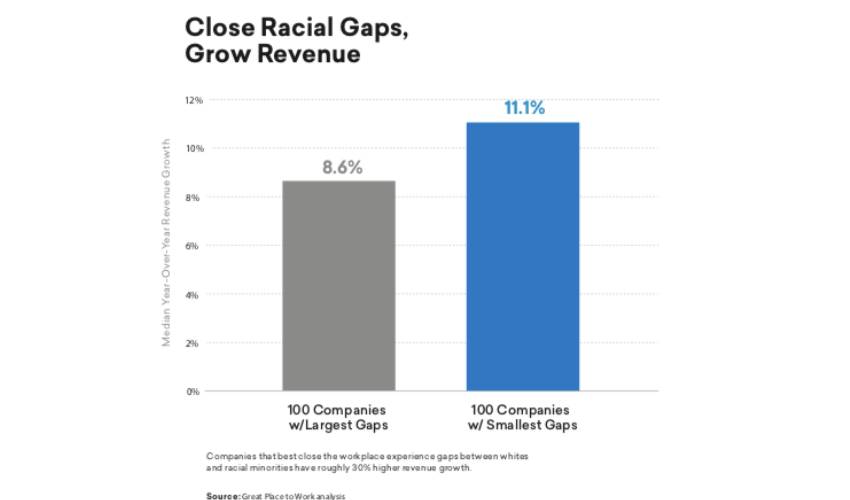 Companies with the most consistently positive experience between minority and white employees posted revenue growth nearly one-third greater over the same period.
 
By embracing diversity as a strategy, business leaders and investors can have more solid footing in the marketplace today and will be in a position to better weather economic uncertainties in the future.
 
"It's not about altruism, it's about good business."- Jenny Lefcourt
 
In Summary
 
While the positive economic and social multiplying effects of DEI in business have been well-documented, they are often overlooked by both business leaders and investors as a factor in weathering difficult economic conditions.
 
However, diverse teams are proven to lead to more resilient cultures that are better positioned to survive ups and down of economic cycles.
 
It's time to change the game by prioritizing minorities and underserved markets in order to develop of more innovative solutions and technologies, and achieve larger returns even in the face of economic uncertainties.
 
 
Together, building a more sustainable future for ALL