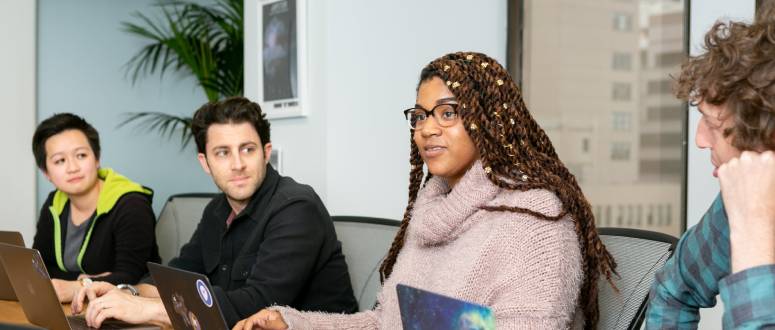 Investing in Diverse and Inclusive Businesses Increases Innovation and Profits
 
As leaders across multiple industries are confronted with the growing reality of an economic downturn, they are at risk of making a common yet critical mistake: focusing on their bottom line while overlooking their diversity, equity and inclusion (DEI) efforts.
 
However, business leaders should look at DEI strategies as part of their plan to navigate through a recession and position the business to quickly recover and grow when economic conditions improve.
 
This is because mounting research shows that historically underserved people are more resilient and innovative in business. Additionally, companies that focused on DEI in past recessions were able to improve company performance during and after the recession.
 
As such, institutional investors who intentionally build a portfolio that prioritizes diverse teams consistently see higher returns despite the market.
 
Slowing Growth Opportunities in the U.S
 
For months, industry experts have been cautioning that a recession in the U.S. is likely. Now, evidence pointing to that eventual outcome is increasing.
 
A recent survey from the National Association for Business Economics (NABE) shows a decline in sales for companies that is getting close to levels which corresponds to several past recessions.
 
"This doesn't mean the majority of firms are predicting a decline, but it is enough to be worrisome," Julia Coronado, the founder of MacroPolicy Perspectives, former Fed economist and current president of NABE.
 
Additionally, according to Bloomberg Economics' models, a downturn by the start of 2024, is highly likely as the economy absorbs the full impact of the Fed's multiple interest rate hikes and growth opportunities slow in the U.S.
 
In Times of Economic Decline, Innovation is Critical
 
Winston Churchill famously remarked that we should never waste a crisis, but the reality is that during a recession, firms often tighten their belts and reduce the amount they invest in innovation as funding dries up and projects get cut.
 
However, for discerning and proactive firms, an economic crisis could be an accelerator. According to Harvard Business Review, past recessions have created three specific opportunities for innovation including:
• Game-changing offerings
• Simple, affordable solutions and,
• Bold strategic moves
 
Recent research from the Kellogg School of Management at Northwestern University came to a similar conclusion:
 
"Our results highlight how crises may act as catalysts for deep changes in the way innovation is organized and conducted." - Filippo Mezzanotti, Associate Professor of Finance at Kellogg.
 
A focus on DEI may be the best route to accelerating innovation and weathering a down economy. This is because a cogent DEI strategy naturally promotes different ways of thinking, creative problem solving and resilience.
 
Diverse and Inclusive Businesses Increase Innovation, and Profits
 
There is an ever-growing list of studies by economists, demographers, and research firms confirming that socially diverse groups are more productive than homogeneous groups.
 
This is not only because the diversity of perspectives' leads to more creative solutions, but also because those who have been historically underrepresented are often more resilient and inventive overall.
 
For example, a 2016 study from the Information Technology & Innovation Foundation (ITIF) found that:
• Over 35% of U.S. innovators were born outside the United States, even though this population makes up just 13.5% of all U.S. residents
• U.S.-born minorities (including Asians, African Americans, Hispanics, Native Americans, and women) make up 20% of U.S.-born innovators
 
In addition, a previous Stanford University study shows that foreign-born founders hold disproportionate numbers of U.S. patents for new technologies.
 
The advantages of greater inclusion and innovation often lead to increased profits.
 
"Diverse and inclusive cultures are providing companies with a competitive edge over their peers." – The Wall Street Journal
 
The Wall Street Journal's first corporate ranking — which examined diversity and inclusion among S&P 500 companies — found that the 20 most diverse companies in their study had an average annual stock return of 10% over five years, versus 4.2% for the 20 least-diverse companies.
 
Likewise, a recent study from Boston Consulting Group (BCG), suggests that increasing the diversity of leadership teams also leads to improved financial performance.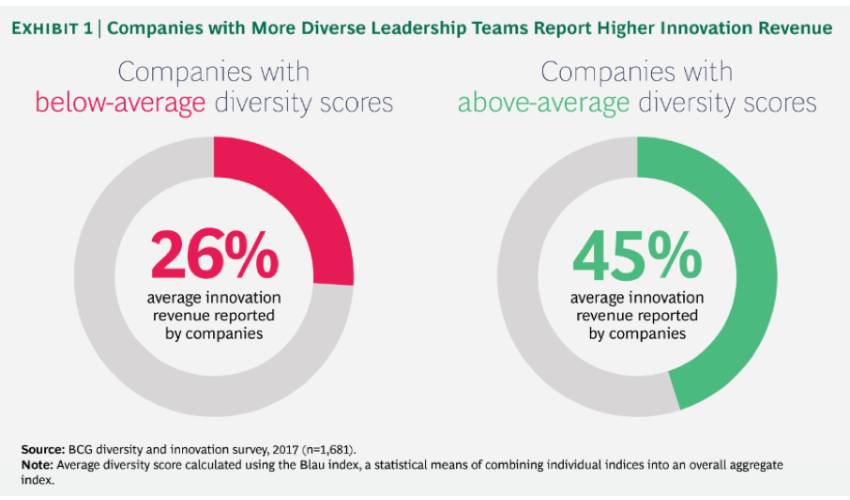 The data showed that in both developing and developed economies, companies with above-average diversity within their leadership teams report a greater payoff from innovation and higher EBIT margins.
 
"Diversity jolts us into cognitive action in ways that homogeneity simply does not"- Katherine Phillips, Columbia Business School Professor
 
By bringing together teams with different qualifications, backgrounds, and experiences, businesses are better able to deliver effective problem-solving and innovative ideas despite the larger economic conditions.
 
With a succession of economic setbacks over the last two decades, there is sound evidence that companies with robust DEI strategies are more profitable than others in times of recession.
 
For example, while the S&P 500 suffered a 35.5% decline in stock performance from 2007–2009, companies with consistently inclusive workplaces thrived before, during, and after the Great Recession, earning a 4x annualized return.
 
This suggests that when done well, DEI efforts more than pay for themselves and make an impact on the bottom line—and in recessionary conditions, companies need every chance they can get to enhance financial performance.
 
In Conclusion
 
DEI plays a key role in helping companies navigate economic downturns and accelerate recovery.
 
This is because DEI efforts lead to a diversity of thought, increased innovation and more resilient teams, which have been proven to improve a company's performance both during and after a recession, leading to higher profits.
 
Moreover, DEI is a large part of the social component (S) of ESG reporting, which is becoming increasingly important and integrated into companies' business models.
 
With scrutiny from investors and society intensifying on this matter, an economic recession is not the time for organizations to take their foot off the pedal.
 
In an increasingly dynamic business environment, turbo-charged innovation powered by diversity and inclusion means companies are better able to quickly adapt to changes in market dynamics and customer demand, which leads to more resilient businesses, increased profitability and better returns for investors.
 
 
Together, building a more sustainable future for ALL